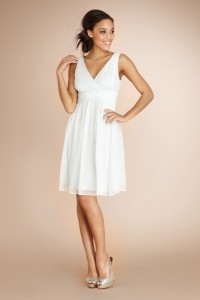 I am a big fan of the Donna Morgan bridesmaid dresses and they are always one of the dresses I suggest to brides in our Ask Maggie section. I am a fan of these bridesmaid dresses for several reasons: one, the come in a large variety of colors. Two, they come in a styles that I know your bridesmaids will be happy with and three, they are reasonably priced. Often I hear from brides that they would like to try to keep the price of the dress they select under $200 and with a Donna Morgan dress you can do just that without having to skimp on style or quality. Here are a few of my favorite styles along with some great color choices.
All styles & photos are courtesy of Donna Morgan

"Get Rustic Wedding Updates"
Receive wedding ideas and updates straight to your inbox!