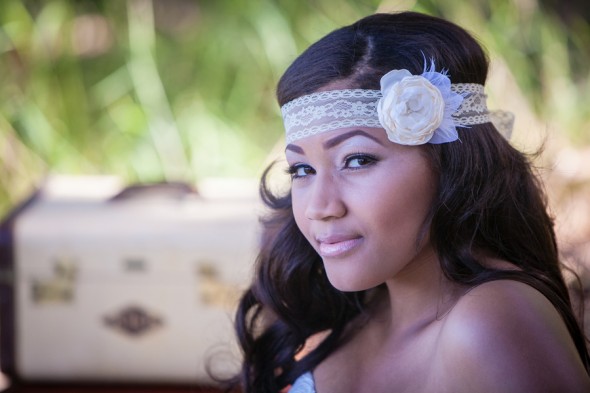 This styled shoot I have for you today is a real fun one! It brings together two of my favorite looks, rustic style and DIY wedding ideas. Here is a little behind the scenes info from the photographers of this shoot: This styled bridal session shot in San Rafael was a collaboration of Ananda of Bliss Fotography, and Brandee of Cherry Bazaar Photography. We photographed the model's wedding recently. She was so full of beauty, energy, grace and creativity during her wedding, we couldn't wait to get her back in front of the camera, helping us create some unique looks for brides-to-be. Our idea was to create several DIY looks for one dress that were simple and effortless. The first look was put together using lace trim from a craft store and attaching a flower clip found on Etsy. The second look was created using a small table runner fashioned into a head wrap. The third is an undone side french braid intertwined with lace ribbon, and the final look is a necklace held in place with bobby pins. All four bohemian-vibe looks work well with the strapless, sweetheart, mermaid-style, lace dress by designer Enzoani.The bouquet was from a local market, picked up same day and hand wrapped with satin, lace, and a cameo necklace. Made up of yellow pin cushions and petite purplish-pink wildflowers, this rustic bouquet worked well with the forest, meadow, and beach environment we choose for the shoot. A Schwinn bicycle, suitcases, bird cages, and 1950s hardbound books added a vintage feel. See more rustic wedding inspiration!
Sources – photography: Bliss Fotography / Cherry Bazaar Photography

"Get Rustic Wedding Updates"
Receive wedding ideas and updates straight to your inbox!