Using Vintage Suitcases in Your Rustic Wedding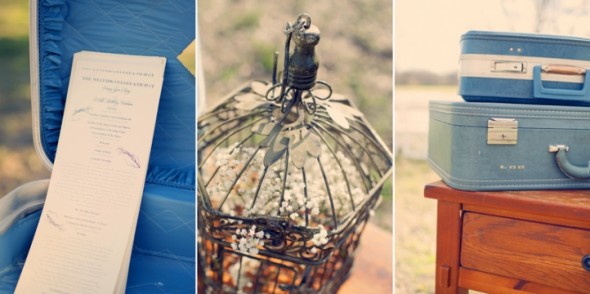 Vintage suitcases can make for wonderful, functional additions to your rustic wedding decor. But before you place your flea market finds at the gift table and leave it at that, consider the other creative and charming props that these well-traveled pieces can become. Vintage suitcases of all sizes make excellent containers for a fresh take on the guest book, a unique display for place cards (this rustic wedding held in Waitsfield, VT offers a great example), or a way to collect handmade postcards with wishes for the bride and groom.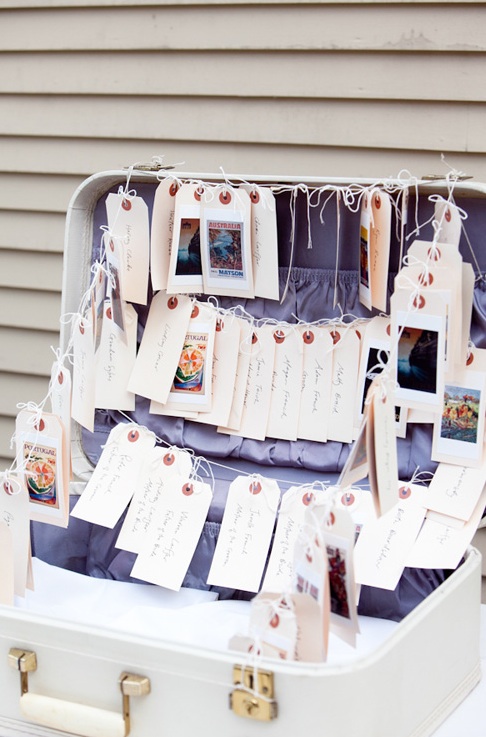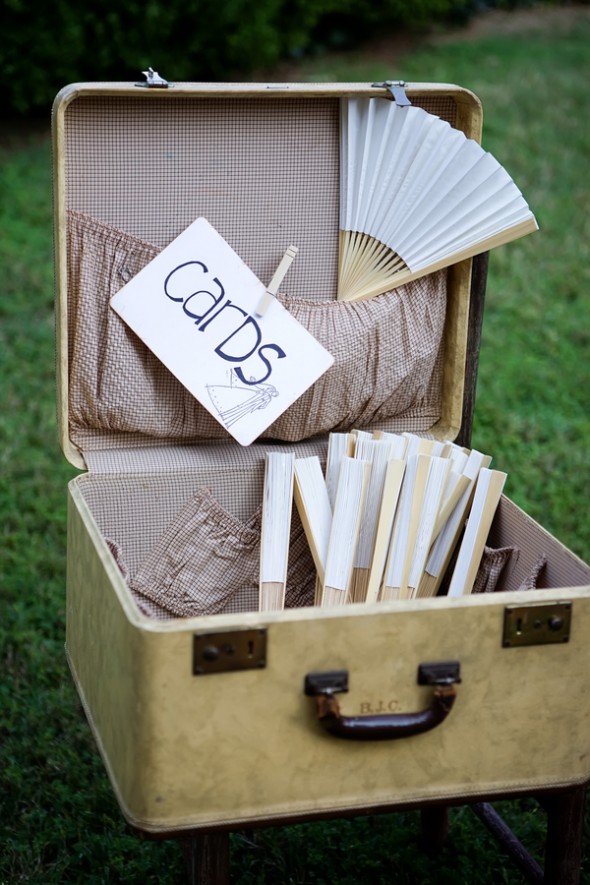 Display favors for guests or sprinkle an eclectic array of vintage cameras in open suitcases throughout your venue so guests can capture their favorite moments of the day. Use a few suitcases to store throw blankets and wraps for your guests in chilly weather, stack extra glassware alongside the refreshments, or display your wedding programs for guests to take as they enter your ceremony.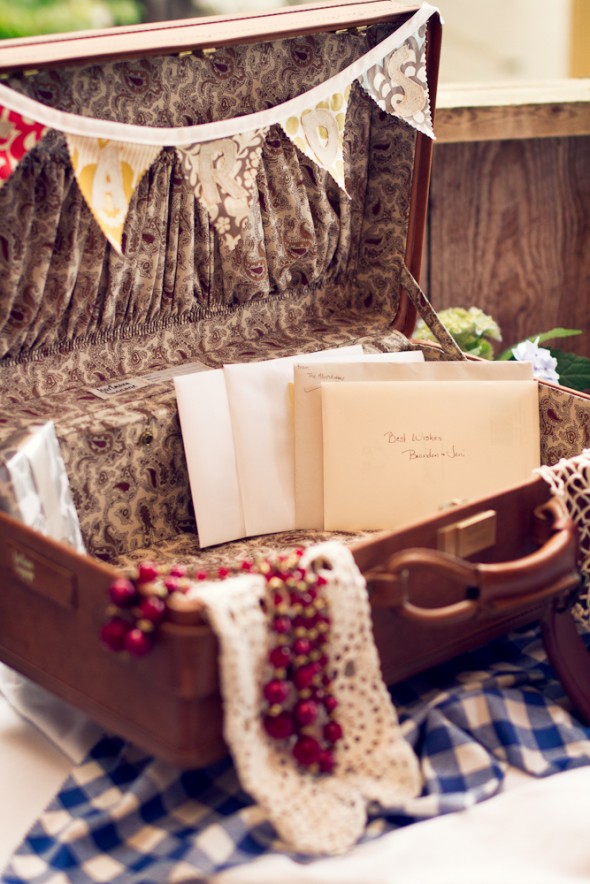 Even those suitcases a bit worse for the wear can host a unique place for the bridal bouquets to be displayed after the ceremony, shown here at a rustic wedding in Jennerstown, PA. Try using vintage suitcases to create unexpected planters.
Suitcases can be spray-painted or stenciled to match the theme of your rustic wedding. By stacking suitcases you can create a dramatic display piece. Or, try a vintage suitcase as an inventive cake or dessert platter, as seen in this inspirational wedding shoot from Elberta, Utah.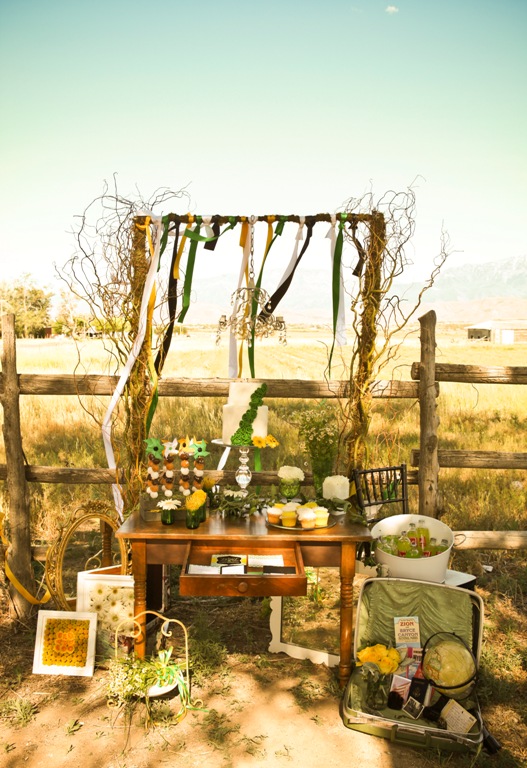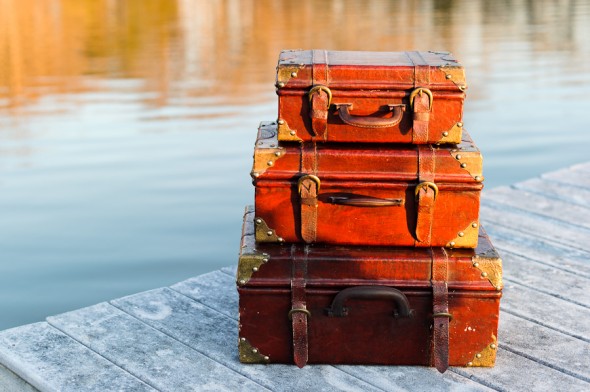 Positioned upright and open, these flea-market finds can function as shadow boxes that reflect the couple's shared interests or a timeline of their courtship. I love the idea of stringing twine across the open expanse of the suitcase or trunk and displaying vintage photographs from each side of the family to honor the newlyweds' heritage. Vintage suitcases and trunks can provide the perfect tableau for rustic wedding pictures, too. I love the way this couple used train cases as props in this vintage travel wedding inspiration post part one and two.
However you decide to incorporate vintage suitcases into your rustic wedding festivities, they are a wonderful way to symbolize the new beginnings and new adventures that come with the joy of marriage. Bon voyage!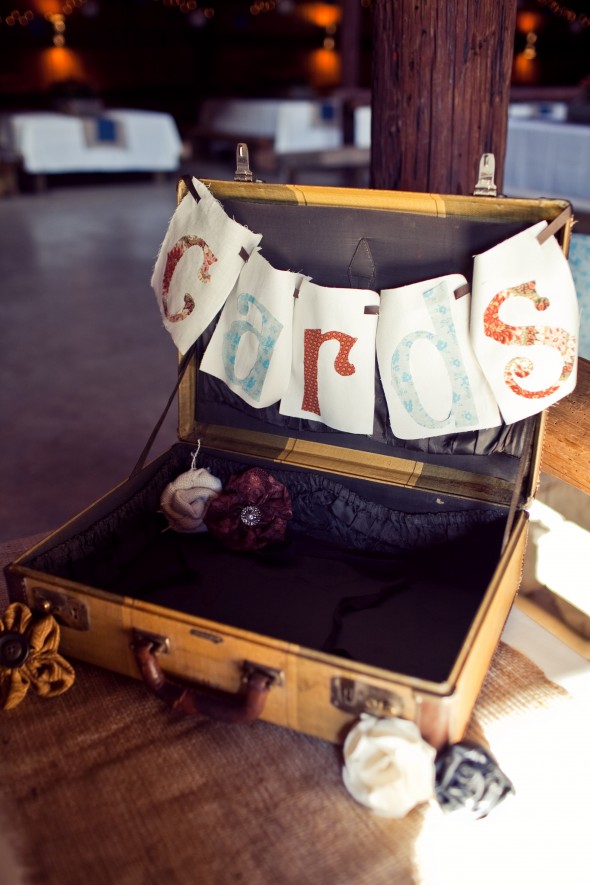 Sources – photo one from Vintage Chic Wedding photographed by Joyeuse Photography / photo two from Vermont Rustic Wedding photographed by Orchard Cove Photography / photo three from Virginia DIY Rustic Wedding photographed by Heather Bee Photography / photo four from North Carolina Rustic Wedding photographed by Revival Photography / photo five from Pennsylvania Rustic Wedding photographed by Jenni Grace Photography / photo six from Fall Rustic Wedding photographed by The Click Chick / photo seven from Vintage Travel Inspiration photographed by Ceniza Studios / photo eight from A Rustic Vintage Style Wedding Inspiration photographed by Ron Dressel Photography / photo nine from DIY Barn Style Wedding photography by Ampersand Studios / photo ten from Wisconsin Vintage Farm Wedding photographed by Stacy Kokes Photography / photo eleven from Rustic South Carolina Barn Wedding photographed by Angela Cox Photography
"Get Rustic Wedding Updates"
Receive wedding ideas and updates straight to your inbox!